Our Philosophy
IS&S aims at providing excellent services to customers and partners worldwide.
Our Services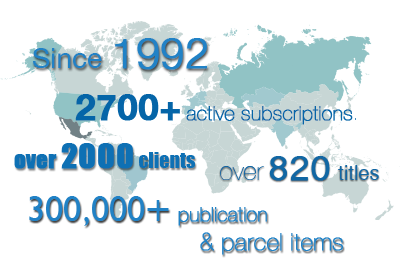 Newspaper and Magazine Subscriptions
Hand Delivery
Publication & Parcel Distribution
International Postal Services
Fulfillment Services
Newspaper & Magazine Subscriptions
Since 1992, IS&S specialises in distributing and handling subscriptions of foreign press.
IS&S is the official agent in Greece for some of the most important financial newspapers and magazines, including The Financial Times, The Economist, The International Herald Tribune and The Banker.
Our client service department offers fast and reliable subscription management services and after-sales support taking advantage of all convenient communication channels and currently managing over 2700 active subscriptions.
Our advanced extranet system provides publishers and subscribers with detailed statistics as well as real-time subscription and complaints management.
Hand Delivery
With a wide, well organized network servicing over 2000 clients and distributing over 820 titles, IS&S ensures the daily and timely hand delivery of all printed material with automated processes and monitoring.
Publication & Parcel Distribution
IS&S handles more than 300,000 publication & parcel items per year mainly from international mailing houses and postal groups. IS&S also offers customised return mail solutions in order to meet specialised requirements such as custom postmarks, returns list, reason of non-delivery, returns shipping etc.
International Postal Services
Since 2003, IS&S acts as an exclusive agent for Spring global mail company, handling all incoming and outgoing mail & parcels to and from Greece through Spring postal network. IS&S also handles reversed mail including direct commmunication with the end customer, parcel consolidation, scanning/tracking and more.
Fulfillment Services
IS&S provides integrated solutions for most mailing and distribution requirements: packing, inserting, handling, labeling, postmarking, sorting and storage.
Financial balance 2012
Financial balance 2013
Financial balance 2014
Financial balance 2015